86 - Are You Pandemic-Fatigued?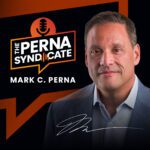 Episode: 86
Episode Title: Are You Pandemic-Fatigued?
Who else feels fatigued from the pandemic…just mentally and emotionally exhausted from dealing with it? If that's you, raise your hand—and stay tuned for today's episode on The Perna Syndicate. 
Ep 86 show:
Hello, I'm your host, Mark Perna! Welcome. In 2020, crisis fatigue got a new name: pandemic fatigue.
Crisis fatigue sets in when the human body experiences heightened (and ongoing) levels of cortisol and adrenaline. Over time, being in a continual "crisis mode" can wreak havoc on our physical and mental well-being.
You can see how crisis fatigue and pandemic fatigue are related. People are mentally and emotionally drained by the ongoing and very real danger of the coronavirus pandemic. Will I catch it? What about my loved ones? What's going to happen to my job? To some extent, we're all wrestling with these intense emotions on a daily basis. It's tough.
In the workplace, employees are feeling less positive, less connected with their peers and leaders, and ultimately less engaged and productive. These feelings are often magnified for the unemployed worker, who may feel lost in a sea of equally qualified candidates. How can we respond productively when we hit a wall at every turn?
There's no silver bullet to solve all of our career and mental-health problems at once, but there is a trait that every worker, employed and unemployed, can start developing to tackle these challenges. And that trait is resilience.
Resilience is the ability to bounce back from setbacks, failures and adverse circumstances—things we've all experienced more than usual this year.
Tomorrow, we'll talk about what three ways you can start building resilience, even when you're fatigued from everything going on. We'll see you then!
---
---
---