In this series, Mark delivers highly actionable, step-by-step strategies that thousands of educators, employers, and parents in his keynote audiences are using with great success. Get the highlights of that content for free—and walk away inspired to make a positive difference.


In partnership with the Forbes team, Mark created a series of leadership videos on a variety of topics, from balancing your work and personal life to tips on successfully leading your remote team.


Education with Purpose & Employment with Passion Series
Mark's national movement, Education with Purpose & Employment with Passion, can shift the paradigm in education, employment, and economic development. Tune in to find out what drives this vision.


Experience Mark's brief and impactful strategies to maximize your outcomes with younger-gen students and employees. Plus, get some career and life inspiration for your own journey!


Answering Students Series
Mark recently went live to take questions from a high school class. In this series, Mark shares from his heart and experience as someone who hit rock-bottom and then found a way to focus, plan, and take action to turn things around.
Discover Mark's Latest Insights on Education, Careers, and Generational Dynamics.
As a generational expert and thought leader, Mark's got a finger on the pulse of the workforce—and what motivates younger-gen employees to deliver their best performance. He contributes weekly at Forbes, where his work has reached more than 3.3 million viewers.


October 25, 2023
Many young people have been taught to pursue college over vocational school. But the tide…


October 13, 2023
With teacher vacancies jumping 51%, how can we meaningfully support struggling educators? Mark's article, "Why…


October 2, 2023
Possessing one or more 'green skills' can increase your chances of getting hired by 29%,…
Shift Your Paradigm with Mark every weekday on The Perna Syndicate.
In less than two minutes every weekday, Mark delivers the latest research and strategies in education, careers, workforce development, and the new multigenerational workplace. The Perna Syndicate podcast is heard in more than 60 countries on Apple Podcasts, Alexa, and everywhere else you listen.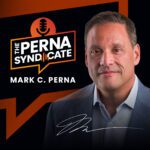 `
USE THESE IMPACTFUL EPISODES TO:
Teachers, counselors, and parents are sharing The Perna Syndicate with the young people they influence. Because the episodes are so short, they're ideal for bellringer times and as a jumping-off point to discuss the latest issues in education and careers.
Some of our recent favorites for young people right now:
Stay on top of the shifts in education and employment with Mark's research-based insights and strategies. Plus, you'll experience Mark's signature inspiration and energy to start your day right!
Start with Mark's latest playlist for a dose of motivation right now!
Subscribe to The Perna Syndicate to get every episode as it releases!
"I enjoy your Perna Syndicate series so much. It has become one of my favorites!"
"Always a great resource."
"With each episode I listen to, I take away valuable material to enhance my classroom. Thank you!" 
"Two-minute podcast that is inspirational, informative, and useful in understanding how to motivate the younger generations and build your workforce."
"Fantastic way to start your day."
"I'm bombarded with lengthy PD that is full of "fluff," but your episodes are exactly what a busy teacher has time for!"
"I like that your episodes are short and get to the point!"

Subscribe To Mark's Free
Paradigm Shift

Newsletter.
ACTIONABLE CONTENT DELIVERED TWICE A MONTH.