806-Gen Z Side Hustles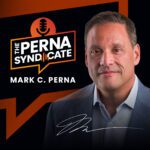 Episode: 806
Episode Title: Gen Z Side Hustles
The younger generations are looking outside their day jobs to make extra money and pursue their passions—and here's why that's a good thing, next on The Perna Syndicate.
Ep 806 show: 
Welcome back to a new week on The Perna Syndicate! I'm your host, Mark Perna. When it comes to today's job market, there's good news and bad news. Here's the good news: companies are still aggressively hiring. The not-so-good news is that wage growth is beginning to slow.
In other words, while employers continue to fight the war for talent, they've reached a limit of how much they're willing to pay to recruit or retain people.
One of the outcomes of this economic convergence is that more and more people, especially those in the younger generations, are exploring side hustles. And while the money is definitely a big factor, the side hustles young people are pursuing tend to involve something they are truly passionate about. The side hustles that "stick" aren't just 'gig' jobs, like driving for Uber.
Jim Love, Director of Client Solutions at TAPFIN, says that, quote, "the typical '9–5' job is not cutting it. Young people need an opportunity to explore their passions in a real way. We see this trend only continuing as side hustles prove worthy of their time in a multitude of ways." End quote. 
Essentially, more and more young people are pursuing passion projects as side hustles—both to make ends meet and to expand their interests. From an employer's perspective, is this a good thing or not? We'll spend the rest of this week discussing that question. 
Thank you for tuning in to The Perna Syndicate today. I'll see you back here tomorrow for what differentiates a 'side hustle' from a 'gig' job. Until then, take care!
---
---
---