805-Why I'm Optimistic About Gen Z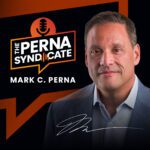 Episode: 805
Episode Title: Why I'm Optimistic About Gen Z
When I look at Gen Z, I see a lot of reasons to be optimistic about the future. Here's a few of them, coming up next on The Perna Syndicate.
Ep 805 show:
Hello and welcome to The Perna Syndicate today! Rather than looking at the members of Gen Z as some kind of challenge to deal with, we should recognize how this generation can make us feel optimistic about the future.
Gen Z is the most entrepreneurial generation to date, making them creative and self-motivated. As consumers, they prioritize sustainability when making purchasing decisions, which demonstrates their commitment to environmental responsibility.
Members of the younger generations also actively advocate for mental health awareness and support, which is helping more people get the help they need. Destigmatizing mental health challenges is something that bodes well for future generations, who will reap the benefit of these priorities.
Finally, Gen Z is very committed to leveling up their skills at work. They're the generation most likely to engage in skills training outside the workplace so they can advance their careers. And they are confident in their ability to get better at what they do.
I firmly believe that in Gen Z, we are looking at the next greatest generation. It's time to stop focusing on how they're so different from those of us from the older generations, and start celebrating how they are leading the charge to a better and brighter future.
Thanks for being part of The Perna Syndicate this week! I've enjoyed this discussion and I hope you've had some good takeaways. I'm your host, Mark Perna, and we'll see you back here next week for more insights and inspiration. Take care!
---
---
---