80 - This Holiday Season, Less is More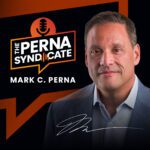 Episode: 80
Episode Title: This Holiday Season, Less is More
Hello, Black Friday—and the unofficial start of the holiday season! Like everything else in 2020, the holidays are going to be different this year. But is that really such a bad thing? Stay tuned for my take!
Ep 80 show:
Hello, and welcome to the Perna Syndicate! Today is Black Friday, a day known for sales, markdowns, and frenzied shopping at retailers nationwide. In a way, the rush of Black Friday shopping can be seen as a metaphor for the hustle and bustle of the entire holiday season. We're all in a hurry, on the go, finishing one event to dash off to the next, and all while trying to keep up with our normal obligations and get some work done.
But this year, what if it all slowed down? What if the pandemic gives us the unexpected gift of doing and preparing less—so we can be more? Be more present. Be more connected to those we live with. Be more, rather than do or say or host more. Just be.
You may love the thrill of Black Friday shopping and the exhilaration of scoring that killer deal, but don't take that frantic experience into the final month of the year.
Even as I make my holiday plans—knowing full well that they could be turned upside down at the drop of a hat—I'm finding myself quietly thankful that some of the usual activities just aren't happening this year. I'm going to take that time to refocus on what matters most, and that's people. We may not be able to connect in person in all the ways we're used to, but we can still connect. And that's what matters.
As you enter this holiday season, embrace the simple truth that sometimes, less really is more.
Thanks for being part of the Syndicate this week. Have a great weekend, and we'll see you back here next week for more insights, strategies, and tools to make a bigger difference!
---
---
---