79 - Finding Something to be Thankful For in 2020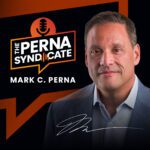 Episode: 79
Episode Title: Finding Something to be Thankful For in 2020
Looking back on 2020, what are you grateful for? There's always something to be thankful for, even in one of the toughest years we've ever experienced. Stay tuned for more! 
Ep 79 show:
Hello, Syndicate—I'm your host, Mark Perna! First off, a big thanks for tuning in today on Thanksgiving. If you're like me (and millions other around the country), today you're taking a minute to reflect on your blessings and give thanks. But what can we be especially thankful for, in a year as hard as 2020 has been?
As a nation, we've faced incredible challenges. First, the pandemic turned our lives upside down with shutdowns, quarantines, and fear. Then the death of George Floyd sparked intense racial unrest in our cities. Then, we waded into a contentious election that further highlighted the deep divides in our country. 2020 stinks, right?
Well, it all depends on your perspective. Yes, we've faced some very hard things—but many of us have used these challenges to adapt and make a bigger impact in the lives of those around us. As difficult as it's been, I'm personally grateful for the challenges faced, the obstacles overcome, and the new things I've learned that will change things moving forward. 
Our progress in shifting the paradigm in education and workforce development has been accelerated this year, as the old systems and paradigms faltered amidst the crisis. The things we have learned now will serve us well into the next decade. 
It's really easy to complain about this past year, and there's a place for venting and making funny memes about all the ways that 2020 just wasn't cool. But don't forget to be grateful, too. 2020 has given us a lot of growth—and for that, I'm thankful.
Thanks again for listening today. Stay inspired this week with my latest on Facebook, Twitter, and LinkedIn. And of course, happy Thanksgiving!
---
---
---