776-Power Up Your Skills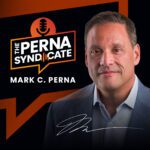 Episode: 776
Episode Title: Power Up Your Skills 
A new report uncovers the abilities most sought-after by employers—and predicts the most coveted skills of the future. Coming up next on The Perna Syndicate!
Ep 776 show:
It's a new week on The Perna Syndicate—welcome! I'm your host, Mark Perna, and I am glad that you are here. 
At the rate the world is changing, it shouldn't come as a surprise that we will probably need to update our work skills more than once in our careers. Upskilling should no longer be viewed as a milestone, but rather a mindset every worker must embrace.
And it isn't just hard skills that you'll need to stay on top of. According to recent research by the learning company Pearson, the most in-demand skills today fall in the range of what has traditionally been known as soft skills.
"All the skills employers seek revolve around human skills—or 'Power Skills'," says Mike Howells, President of Workforce Skills at Pearson. "Hard skills require constant retraining to stay up to date… What makes a difference in employee skills are the soft skills, like problem-solving or personal learning, which showcase individuals' eagerness to continue growing and learning new skills throughout their career."
These are exactly the type of skills employers look for as they build a competitive and expandable workforce. We should never be done learning. When you focus on boosting these valuable professional skills, you'll see how far it can take you—and your team.
Thank you for tuning in today. Tomorrow on the show: 5 ways to power up your professional skills for today's workplace. I hope to see you next time on The Perna Syndicate!
---
---
---