775-Cut Yourself Some Slack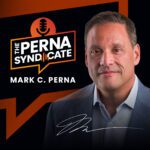 Episode: 775
Episode Title: Cut Yourself Some Slack
What is the one career lesson that took Bill Gates the longest to learn? Let's talk about it, coming up next on The Perna Syndicate.
Ep 775 show:
Happy Friday on The Perna Syndicate! In delivering his last piece of advice to new college graduates, Gates shared the lesson that he could have used the most—and that took the longest for him to learn. It is simply this: "You are not a slacker if you cut yourself some slack."
Gates shared his own journey from a workaholic mindset to a more balanced view of life and work. "When I was your age," he told his audience, "I didn't believe in vacations. I didn't believe in weekends. I didn't believe the people I worked with should either," he admitted. "In the early days of Microsoft, my office overlooked the parking lot—and I would keep track of who was leaving early and staying late. But as I got older—and especially once I became a dad—I realized there is more to life than work."
Gates urged his listeners not to wait as long as he did to learn this lesson.
And I agree with him. Without these moments to cut yourself some slack, it's impossible to realize how much you have already accomplished. While it is impressive to have the drive to go without stopping, it is more impressive to take the time to feel proud of yourself and all you have done already.
Gates added, "Take time to nurture your relationships. To celebrate your successes. And to recover from your losses. Take a break when you need to. Take it easy on the people around you when they need it, too."
What a great perspective we can all use in our professional lives!
As always, thank you for tuning in this week. I am your host, Mark Perna, and if you liked what you heard this week, please join us on Monday for more insight and inspiration on The Perna Syndicate. See you then!
---
---
---