774-The Power of Friendship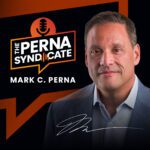 Episode: 774
Episode Title: The Power of Friendship
Bill Gates urged college graduates to understand the power of building a network, especially with friends. Join me for this conversation, next on The Perna Syndicate.
Ep 774 show:
Thank you for tuning in to The Perna Syndicate today! At Northern Arizona University's recent commencement, Bill Gates gave 5 pieces of advice to the class of 2023. Today we're talking about the fourth thing he shared, and it's this: don't underestimate the power of friendship. 
Friendships can have an incredible impact on your career journey. "When I was in school," said Gates, "I became friends with another student who shared a lot of the same interests—like science fiction novels and computer magazines. Little did I know how far that relationship would take me. My friend's name was Paul Allen—and we started Microsoft together." 
Gates showed just how far the power of one connection, one friendship can take you. 
Building a network of people that can help support you, and you do the same for them in return, is valuable at any point in life. The years following high school are the perfect time to make these connections, with instructors, industry contacts, and especially fellow students. 
Gates told the audience that their fellow graduates today are more than just classmates. "They are your network," he said. "Your future co-founders and colleagues. Your best sources of support, information, and advice. The only thing more valuable than what you walk offstage with today is who you walk onstage with."
Such great advice! Thank you for listening in on The Perna Syndicate today. I hope to have you back tomorrow, when we talk about Gates' final piece of advice for new graduates and beyond. 
---
---
---