773-Work to Solve Problems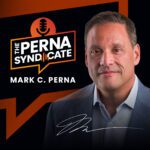 Episode: 773
Episode Title: Work to Solve Problems
Bill Gates is hopeful about future generations taking the opportunity to help others, and you should be too. More on that, coming up next on The Perna Syndicate.
Ep 773 show:
You're now in The Perna Syndicate—welcome! Today we are digging into Bill Gates' third piece of advice for the class of 2023, and that is to "gravitate toward work that solves a problem."
In his commencement address, Gates urged his hearers to work in practical fields that make the world a better place. He said, "The good news is, you are graduating at a time of immense opportunity to help people. New industries and companies are emerging every day that will allow you to make a living by making a difference. And advances in science and technology have made it easier than ever to make a big impact."
Of course, in my work with the younger generations, I've found that purpose is a key motivator for Generation Z. They are fulfilled by work that helps others and solves problems. 
Gates would agree, advising young people that "When you spend your days doing something that solves a big problem, it energizes you to do your best work. It forces you to be more creative, and it gives your life a stronger sense of purpose."
I love this! Imagine how much can be done if we encourage this generation to follow what they are already passionate about—helping people. It might just end up being a brighter, more inspiring world with a positive impact for future generations. 
I appreciate you tuning in to The Perna Syndicate today! Tomorrow we will be talking about Bill Gates' fourth piece of advice, and you won't want to miss it. Catch you then!
---
---
---