750-Active or Static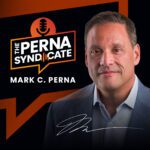 Episode: 750
Episode Name: Active or Static
Some kids are focused on achieving more than others—this is just a fact. Here's a bit of insight into why that might be, coming up next on The Perna Syndicate.
Ep 750 show:
Hello and happy Friday on The Perna Syndicate! Why are some young people motivated to achieve more than others? I believe part of the reason has to do with the two modes we all live in: active purpose and static purpose.
Students who are living primarily in static purpose mode are standing still in the tunnel. They're not moving forward—they're just trying to survive.
They could be stuck in static purpose for a variety of reasons. Maybe they're apathetic. Maybe they've experienced some kind of trauma. Maybe they're dealing with social and emotional issues. Maybe they're scared to fail or make a mistake. Maybe they just don't see a light at the end of their tunnel that would give them a reason to move forward.
Some kids are stuck because they see education as one of their problems—instead of what it actually is, their solution. Of course, we know education is the solution, but they have to see education as a solution for themselves.
On the other hand, young people operating in active purpose mode are taking steps toward their goals. Maybe the steps are small, maybe there are setbacks, but they are moving forward. They're active.
The difference is, people in active purpose see something worth moving toward. That's what changes everything—for Gen Z and for all the rest of us. Living in active purpose means keeping your eyes on the light at the end of your personal tunnel.
I appreciate you being part of The Perna Syndicate this week. As always, you can reach me at MarkCPerna.com with any comments or questions. We'll see you back here next week on the show. Take care!
---
---
---