751-Passionate People in Healthcare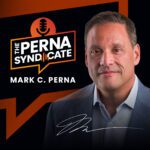 Episode: 751
Episode Title: Passionate People in Healthcare
New service programs are creating career paths for young people in healthcare—and they don't require a 4-year degree. Here's the story, next on The Perna Syndicate.
Ep 751 show:
Hello and welcome to a brand-new week on The Perna Syndicate. I'm your host, Mark Perna, and I'm glad you're here. 
The so-called "skills gap" we hear so much about in the economy is a big factor in my passion to connect young people to their future careers. They want meaningful work that will allow them to maintain their ideal lifestyle, and I'm here to support them in that. 
I do that primarily by empowering educators, employers, and economic developers to reframe how they connect and engage with young people. We need to show them there are many ways they can pursue their passions in careers that fill huge employment gaps. 
One of the sectors that's welcoming young people with open arms is healthcare. As we continue our recovery from the pandemic, we need to grow our public health workforce to build a more resilient future. We also need a diverse workforce of public health professionals who reflect the communities in which they serve. 
That's why I'm excited about Public Health AmeriCorps. This is a new partnership between AmeriCorps and the CDC with a goal to recruit the next generation of public health leaders. 
Recruiting young people into the healthcare field can be a win-win for everyone—especially when it connects communities in need with young people's passions. We just need to help them get there. 
Thank you for tuning in to The Perna Syndicate today. Tomorrow: are healthcare openings being filled enough to keep up with demand? I will see you next time for that conversation!
---
---
---