745-3 Ways to Boost Retention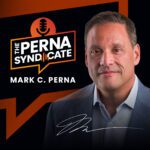 Episode: 745
Episode Title: 3 Ways to Boost Retention
To retain top and tenured talent, here's some quick advice that might just make the difference—coming up next on The Perna Syndicate.
Ep 745 show:
Welcome back to The Perna Syndicate, and thanks for being here. All week we've been talking about L&D and what it can do for your retention and engagement. Here are three more tips on how to use employee training to retain a strong workforce.
Number 1: Make small changes toward a culture of learning. This can be in the form of creating job shadowing and mentorship opportunities or rotational programs. Even managers helping their employees to try projects that fall outside their typical day-to-day responsibilities is a great way to move in this direction. Small actions add up!
Number 2: Allow self-directed learning. There's an opportunity for L&D and business leaders to give employees more agency over their career growth. The more we allow people to take learning into their own hands, the more they can build careers with resilience. Engaging learners of all ages with the tools and resources to chart their own course can give them a sense of growth, advancement, and adaptability.
Number 3: Increase visibility of internal job opportunities. Not only does it make it easier for employees to find their next play internally, but it also allows organizations to redeploy talent to other strategic areas of the business. Internal mobility plays a big role in retention. An employee who has made an internal move by the two-year mark is far more likely to stay with the company than those who haven't.

These tips can make a big difference in your L&D culture! Thank you for tuning in with me this week. I hope to see you next week on The Perna Syndicate. Until then, take care!
---
---
---