742-Skills For the Age of AI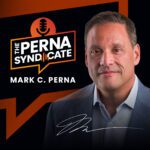 Episode: 742
Episode Title: Skills For the Age of AI
Training your people on skills that are in-demand, and will remain in-demand, is essential in the age of AI. Let's talk about it, next on The Perna Syndicate.
Ep 742 show:
Hello and welcome to another day on The Perna Syndicate. Young workers today value vibrant learning and growth opportunities at work above all else—even more than they value work-life balance, in some cases. A strong learning culture is now the key way that you can attract and retain top talent.
So learning and development (or L&D) is important. The question becomes: which L&D? What kind of skills are most important to teach your people? To help answer this question, LinkedIn recently released a list of 'the most in-demand skills' that breaks down the most desired workplace competencies of 2023 and beyond.
High on the list are soft (or as I call them, professional) skills that AI can't duplicate. Management, communication, leadership, and teamwork require a human element, and will always be marketable. A strong ability to connect and lead teams is what companies need to stay on top.
On the other end of that, hard skills are also high on the list to build a high-performing team. Technical abilities dominate the scene, including skills needed to build products and manage the data that informs innovation and service. Software development, Python, Java, data analysis, cloud computing, and CRM are all highly sought-after abilities in the hiring space.
L&D truly allows your people to thrive and gain skills that can't be lost to automation. Young people especially seek out this development, and employers need to deliver.
Tomorrow: Upskilling is becoming essential in all fields, and making it a priority will allow your organization to prosper. I will see you next time on The Perna Syndicate!
---
---
---