741-If They Can't Grow, They'll Go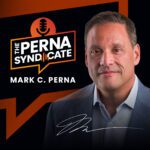 Episode: 741
Episode Title: If They Can't Grow, They'll Go 
New LinkedIn data indicates that in a skills-first market, workers will gravitate to organizations that actually support their learning journey. Let's talk about it, next on The Perna Syndicate.
Ep 741 show:
Hello and welcome to a brand-new week on The Perna Syndicate. I'm your host, Mark Perna, and this week is all about learning and development, also known as L&D for short. 
First, to define our terms, L&D is an organization's ability to train new and current employees. While this has always been important, it has now become even more vital. In fact, 89% of organizations agree that proactively building their workforces' skills will help them navigate the future of work. 
Getting the right people, in the right roles, for the right reasons is now closely linked to your ability to train and grow those right people—and then motivate them to stick around long enough to make a meaningful contribution.
It's a skills-first market today, and employees know it. They're highly motivated to grow their skill sets and stay competitive in a world that's changing faster than ever. 
As workers come to prize their learning and growth opportunities, companies will rise and fall by the strength of their L&D culture. Employees need to feel that they have a clear path to grow, along with robust resources to do so. They are far less likely to jump ship for an opportunity elsewhere if they feel they can grow in their current role. Likewise, workers who do not feel supported in their skill journey will be up for grabs.
The message to employers is clear: if employees can't grow, they'll go.
Tomorrow: It's been shown that young people thrive in positions that provide training opportunities. So what kind of L&D are they looking for in the age of AI? We'll talk about that and more next time on The Perna Syndicate. See you then!
---
---
---