74 - Marketing is Telling a Story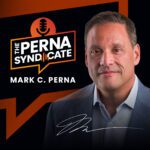 Episode: 74
Episode Title: Marketing is Telling a Story
No matter what your job is, marketing is your job. And marketing doesn't have to be hard. Stay tuned for more…coming up next!
Ep 74 show:
Welcome to the Perna Syndicate! Yesterday, we talked about how everyone is a marketer, whether they know it or not. Everyone debates, argues, and persuades others, and that makes them marketers. 
Many of us in education, workforce development, and even in our homes find ourselves marketing to the younger generations. There's something we want young people to do, some action we want them to take. We're marketing to them.
Marketing is really just telling a story, especially for educators. This story is shared in many different ways, but the narrative remains the same. It's all about the value and power of your program, pathway, or class for prospective students. You are always answering the unspoken question, "what's in it for me?"
To craft your marketing story, drill down to why someone would want to complete your specific kind of education. What kind of lifestyle could they enjoy as a result? What career experiences can they pursue? What advancement is possible, and what are the benefits of the field? What are the enjoyable and interesting things that students will get to experience as part of this specific education? What successes have graduates enjoyed? What is the job forecast for your field? What are the latest trends and technologies?
People need someone to tell them about the value of your offerings in order to take action. You're that person, because marketing is an intrinsic part of what you do. And far from being a burden, this is an exciting opportunity to make a bigger difference.
Follow me on Facebook, Twitter, and LinkedIn for more ideas and insights to empower the younger generations. We'll see you tomorrow!
---
---
---