736-I'm A Free Agent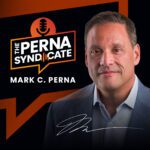 Episode: 736
Episode Title: I'm A Free Agent
The rapid changes in the job market have given rise to a mindset among workers that they're totally free agents. Here's why, next on The Perna Syndicate.
Ep 736 show:
It's a new week on The Perna Syndicate and I'm your host, Mark Perna. Nowadays, things are changing rapidly in the employment market. And yet, according to a new survey, American workers are increasingly confident in their career prospects.
According to a study conducted by the University of Phoenix, some 80% of employees remain hopeful for the future of their careers. But this optimism comes with a catch: 22% report that they are dissatisfied in their current jobs.
Despite the uncertainty in the economy, more than half of respondents said they are currently actively looking for a new job or expect to do so in the next 6 months.
Remarkably, 30% said they would quit their job without having another lined up, while 46% would walk away from their job with a severance package worth three months' pay.
I connected with John Woods, Chief Academic Officer at the University of Phoenix, to discuss these findings. He believes that employees across America continue to feel empowered to channel a 'free agent' mindset. This means they're confident in their ability to advance their own career, on their terms, even if that means leaving their current employer for a better opportunity elsewhere.
Workers are sending their employers a clear message: I'm a free agent. With some 74% of employers concerned about turnover, there's clearly a disconnect between what employees want and what employers are delivering.
This week, I want to talk about why so many employees are seeing themselves as free agents, and the three actions employers can take to attract and retain them. Tune in tomorrow on The Perna Syndicate as we dive in. See you then!
---
---
---