735-Conservation Is More Than Cool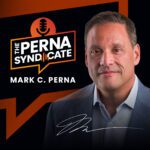 Episode: 735
Episode Name: Conservation Is More Than Cool
For young people today, a career in conservation could be the ticket to a fulfilling and purpose-driven life. Here's how, next on The Perna Syndicate.
Ep 735 show:
Thanks for tuning into The Perna Syndicate! A recent study by Carhartt found that 74% of Gen Z and Millennials feel that climate change and the environment are top concerns for their generation and future generations. On top of that, 92% of respondents across all generations agreed that preserving America's national parks is important.
Carhartt president Linda Hubbard, whom I interviewed about these findings, says that it all comes down to the deep need to live a life of purpose that is fulfilling. Because the environment is an issue that young Americans feel needs to be addressed, they're looking at careers and companies that will help them make a difference in this area.
91% of respondents also agreed that having more young people in nature conservation or the outdoors workforce would have a positive impact on society. Another 80% felt that working in conservation-related jobs would be beneficial to their career.
While it's worth saying that not every young person may want to pursue a job working outdoors, the reality is that there are hundreds of jobs available for those who don't see college as their best fit. For these young people, conservation is more than cool—it could be a career.
Today's younger workers will move forward only when they discover their own personal light at the end of the tunnel. This means the lifestyle they want to live, the purpose they want to pursue, and the career that makes it possible.
Thanks for being part of The Perna Syndicate this week—it's been a great conversation. As always, I'm your host, Mark Perna, and we'll see you back here next week for more insights and inspiration. Take care!
---
---
---