731-Stuck At A Desk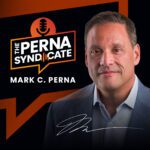 Episode: 731
Episode Name: Stuck At A Desk
Would young people rather work in a traditional office, or explore a career in the great outdoors? Here's what the research says, next on The Perna Syndicate.
Ep 731 show:
Welcome to a new week on The Perna Syndicate! I'm your host, Mark Perna. According to a recent survey of more than 1,000 Millennial and Gen-Z young people conducted by Carhartt, nearly half of the respondents expressed uncertainty about their future career paths. 44% reported that "finding a job that aligns with my values" was their top challenge in today's job market.
That same survey also revealed another insight into young people's career mindsets: 85% of Gen Z and Millennials are at least somewhat open to a job in nature conservation or the outdoors. 46% said that being stuck at a desk for 8 hours every day was the biggest downside of a traditional office environment. The lack of fresh air and the lack of adventure were also pain points for about a quarter of the young people surveyed.
Carhartt president Linda Hubbard, whom I interviewed about these findings, believes that younger workers are becoming disillusioned with the office, where it can be easy to feel like just a number.
Additionally, many young people were delayed in entering the workforce due to the pandemic. So they aren't as acclimated to the traditional 9 to 5 schedule.
Time spent at work takes up a third of our lives—possibly more if we're working more than 8 hours a day. That's why many purpose-driven young people are looking at that time investment and questioning how their work contributes to the greater good.
This week, I want to talk about why outdoor jobs in conservation, as well as careers in the trades, might be the right fit for many younger workers who just aren't feeling it in the office. We'll see you next time on The Perna Syndicate for that conversation!
---
---
---