732-The Outdoor Office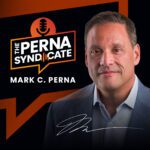 Episode: 732
Episode Name: The Outdoor Office
Outdoor careers in conservation or the skilled trades can be a great option for young people to pursue. Here's why, next on The Perna Syndicate.
Ep 732 show:
Welcome to The Perna Syndicate! A recent study found that 85% of Gen Z and Millennials are fairly open to a job in nature conservation or the outdoors. The traditional office environment has some distinct downsides for them, with almost half saying they don't like sitting at a desk for 8 hours a day and another quarter saying that office jobs lack fresh air and a sense of purpose.

In response to this trend, Carhartt has partnered with the National Park Foundation to launch a new public awareness campaign called "Outdoor Office." This campaign spotlights Service Corps job opportunities that preserve and protect national parks for present and future generations.
Just to be clear, I'm not advocating that outdoor jobs are better than indoor jobs. If you follow me at all, you know my mantra is that all viable, living-wage opportunities should be on the table. They are equal in value and we need them all!
By focusing on outdoor jobs on the show this week, I just want to bring this type of work into the conversation so young people can weigh all their options and make the best choice for themselves.
That said, I do believe that working in a local Service Corps is a way that young people can gain valuable work experience. And along the way, they'll contribute meaningfully to the ability of the National Park Service to maintain parks and to improve the visitor experience. For purpose-minded young workers, this is an option that is definitely worth looking into.
Tomorrow: Why are so many young people questioning if they want to pursue white-collar careers? The pandemic played a big role in that, as we'll discuss next time on The Perna Syndicate. See you then!
---
---
---