708-Future-Proofing Your Career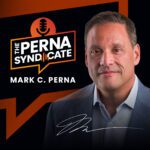 Episode: 708
Episode Title: Future-Proofing Your Career
Is it possible to really "future-proof" your career? While no one knows what lies ahead, there are steps you can take to be ready—next on The Perna Syndicate.
Ep 708 show:
You're now in The Perna Syndicate—I'm glad you're here! In light of the high-profile tech company layoffs of recent months, many younger workers might be concerned about losing their job. No one really knows what is coming next. So how can they—and the rest of us—prepare for an unknown future? 
Workers in any field can take the first step toward future-proofing their careers by staying on top of trends. Spend the time now to ensure you're skilled in the areas that are projected to grow. This should be an ongoing investment that you make in your future—taking the initiative outside working hours to stay current. 
The second step to future-proof your career is to actively seek out opportunities for new experiences. Whether it's an internship, independent hands-on learning, or even a volunteer opportunity, the skills you learn by doing can never be taken away from you. Not to mention how great they look on your resume when you're interviewing with prospective employers.
Thirdly, and perhaps most importantly, we need to give attention to our professional skills. Often called soft skills, these types of leadership, communication, and interpersonal skills are just as critical as the technical competency required by the role.
Your professional skills could be the deciding factor in your ability to land the job, keep it, and move up the ranks. And the best news? You don't have to wait till you're employed to develop your professional skills. They are the currency of a future-proof career. 
Next time, what if you do lose your job? What do you do next? We'll offer three pieces of advice tomorrow on The Perna Syndicate—stay tuned!
---
---
---