707-Why Tech Isn't Going Away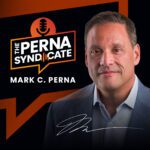 Episode: 707
Episode Title: Why Tech Isn't Going Away
The field of technology is always changing, but tech workers concerned about their job security shouldn't worry too much. Here's why, next on The Perna Syndicate.
Ep 707 show:
This is The Perna Syndicate—hello and welcome! Recent layoffs and uncertainty in the technology sector have a lot of people worried—especially younger workers who may have just launched their careers in this field. 
It's true that the threat of a recession has caused more than a few companies to slow the pace of their hiring overall. However, when it comes to tech-related jobs, the net employment outlook remains strong. According to a recent survey, 64% of employers in the IT industry planned to increase their staff during the first quarter of 2023.
Employment prospects look even brighter long term. By 2025, it's projected that some 149 million new digital jobs will be created in areas such as Privacy and Trust, Cybersecurity, Data Analysis, Machine Learning and AI, Cloud, Data and Software Development.
That's a lot of new jobs! And this is why I believe tech will remain a viable career choice for young people. In short, tech is not going away. 
Like any industry, technology has seen its ups and downs. All of this feels bigger and more intense nowadays because it's happening so fast. But when you look at the trajectory of our culture and how integrated technology will continue to be, it's hard to imagine that tech is not going to need the best and brightest talent it can get. 
In the foreseeable future, tech jobs across just about every industry will remain hot and in-demand. Tech isn't going away any time soon. 
Tomorrow, we're going to talk about how tech workers (and the rest of us) can future-proof our careers in a changing world. Join me next time on The Perna Syndicate—see you then!
---
---
---