706- What's Next For Tech Careers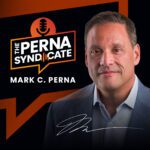 Episode: 706
Episode Title: What's Next For Tech Careers
If you've heard about the recent tech industry layoffs, things might not be as bleak as the headlines indicate. More on that, next on The Perna Syndicate.
Ep 706 show:
You're now listening to The Perna Syndicate! I'm your host, Mark Perna, and today I want to talk about the ever-changing field of technology. Specifically, the recent layoffs at multiple big-name tech companies have gotten a lot of press lately. The uncertainty in the economy is no doubt contributing to these adjustments. 
Naturally, this has caused ripples of concern among job seekers—especially members of the younger generations who might have recently started their careers or who soon will be. Suddenly, young people might be wondering whether they made a mistake in pursuing a job in tech. 
Of course, they're not the first generation to feel this way. I think back on the dot-com crash in the early 2000s that my generation experienced. The labor market has always been liable to shift at the drop of a hat. 
But the good news today is that, according to research by Experis and the ManpowerGroup, many IT tech companies are still looking to hire. 64% of employers in the IT industry planned to hire in the first quarter of 2023, while 78% reported difficulty finding the talent to fill these roles. And that data doesn't even include opportunities for IT roles at companies outside the IT industry itself.
The high-profile layoffs of recent months are just one part of the story. This week, we're going to look at how workers in all fields, but especially tech, can pivot and adapt as things continue to change. 
Tomorrow, stay tuned for a conversation on why tech workers will always be in demand. We'll see you back here next time on The Perna Syndicate!
---
---
---