689-5 Critical Leadership Skills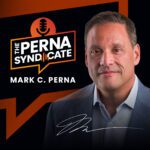 Episode: 689
Episode Title: 5 Critical Leadership Skills
What are the top five leadership skills that young people need to develop? Let's talk about it, coming up next on The Perna Syndicate.
Ep 689 show:
This is The Perna Syndicate—let's get going! We've been talking about leadership this week, and recent research has uncovered five critical skills that every up-and-coming leader needs to master.
First is the ability to identify and develop future talent. Leaders are able to see the potential in others and follow through with coaching, feedback, and development opportunities to bring that talent to fruition. 
The second skill is strategic thinking, or the ability to anticipate and respond to changes in the market. This allows leaders to effectively compete and navigate the business environment and to prioritize the work that is most important.
Third, being able to manage change successfully is a crucial skill. This means identifying necessary changes, communicating about change effectively, and leading others through the transition in a positive way. 
The fourth leadership skill young people need to develop is decision-making and prioritization. This means having a clear grasp of the situation and being able to identify the most important goals and actions to take.
Finally, leaders need to be able to influence others. This skill involves understanding others' needs and motivations, while being able to persuade others to support your own ideas.
Leaders of any age can benefit from developing these five skills. And the best part? Unlike many other skills today, these will never become obsolete.  
Tomorrow: what are some practical ways that organizations can start training up the next generation of leaders? Catch me next time on The Perna Syndicate for more on that. See you there!
---
---
---