688-Letting Young Leaders Shine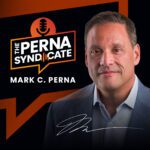 Episode: 688
Episode Title: Letting Young Leaders Shine
Why aren't companies developing younger leaders? Are they falling for the negative stereotypes about Gen Z? Let's talk about it, next on The Perna Syndicate.
Ep 688 show:
Hello and welcome to The Perna Syndicate! According to recent research, effective leaders are one major asset that many companies are missing. Yesterday we talked about how we need to stop looking for leaders and instead, start developing younger employees to step into these vital roles. So why aren't more companies doing this?
To be fair, some are. And the research indicates that the younger workers at such organizations are much more engaged and likely to stay long-term than their peers at other companies. 
But sadly, all too many organizations would rather bring in an experienced leader than take the time to develop a new one. Maybe they've bought into the negative stereotypes about young people today—they're lazy, entitled, unmotivated, etc. This is sad, because young people are our future and they will be what we help them to become.
As I travel across the country speaking to audiences, I've found that one of my roles is to dispel the misconceptions about today's younger generations—especially when it comes to their viability as valued employees. 
The research shows that what young people really want is the chance to grow, develop their skills, and yes, lead. And guess what? Organizations need leaders to step up from the younger generations more than ever. The good news is that they're ready for the opportunity. Are we ready to let them shine?
Tomorrow on The Perna Syndicate, what are the five critical skills that young people need to become effective leaders? We'll cover that next time…see you then!
---
---
---