690-How to Develop Leaders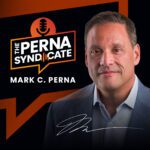 Episode: 690
Episode Title: How to Develop Leaders
There are lots of reasons why we need to develop new leaders. Here's a little more on how to do it, coming up next on The Perna Syndicate.
Ep 690 show:
You've tuned into The Perna Syndicate—welcome! We've talked a lot this week about why we need to develop young workers into leaders. Now, I want to wrap up with a conversation on how. 
The first step is to have conversations with those employees. They need to know they're valued and that they have a career path at the company. In fact, understanding their career path makes leaders four times more likely to find meaning and purpose in their jobs, which increases their likelihood of staying at the company.
High-potential leaders also need two kind of development experiences: feedback from internal and external coaches, and regular assessment to diagnose their strengths and areas for improvement. 
Assessment is an often-overlooked piece of the development puzzle. Before people can grow, they have to know where they're lacking. An objective look at what they are truly skilled in and what they may struggle with is extremely helpful. 
With that knowledge in hand, tailored programs can be developed. Ideally, these programs should include interactive learning experiences with peers, as that is the preferred learning method for the majority of current managers. 
Whether we like it or not, young people today will be the leaders of tomorrow. Influencing their development is a powerful way to make a positive difference and fill the leadership talent shortage.
Thanks for being part of The Perna Syndicate this week! I'm your host, Mark Perna, and we'll see you back here next week for more insights and inspiration. Take care!
---
---
---