674-Connected Humans Work Better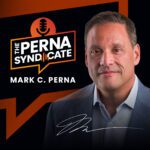 Episode: 674
Episode Title: Connected Humans Work Better 
Most generations can do okay without feeling a genuine human connection at work. But it's different for Gen Z and here's why—next on The Perna Syndicate.
Ep 674 show:
Hello and welcome to The Perna Syndicate! While the overnight switch to remote work was jarring for everyone, it was especially tricky for young people just starting their careers. Imagine navigating new coworker relationships and trying to learn the ropes without any face-to-face context whatsoever. 
Human connection is on Gen Z's top five list of what they want at work—but it can be hard to find. In a study by Airspeed, 95% of C-suite respondents admitted that their company culture and sense of connection are poor. Three-quarters believe that their employees would make significant sacrifices to work for another company where they would feel a deeper connection with their teammates. 
A human connection depends on three vital questions: Do you see me? Do you hear me? And do I, in fact, matter? If a Gen Z worker feels the answer to any of these questions is a no, you've lost them. They will not move forward with you or bring their best contribution to the work at hand. Why should they?
Though other generations can mostly do okay without a genuine human connection, there is no question that taking the time to forge that connection yields significantly better outcomes in the workplace. Connected humans work better.
So much of effective leadership is simply connecting with people on a meaningful level. No matter what generation they're from, they will respond positively to feeling seen, heard, and valued. 
On tomorrow's show, we'll talk about the fifth and final piece of the Gen Z puzzle at work: purpose. Be sure to subscribe to The Perna Syndicate on your favorite platform, and we'll see you next time!
---
---
---