673-Financial Wellness at Work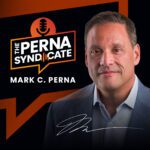 Episode: 673
Episode Title: Financial Wellness at Work 
It's known that Gen Z struggles with mental health, but how much of that is related to their financial health? Let's talk about it, next on The Perna Syndicate.
Ep 673 show:
You are now in The Perna Syndicate—hello! Money is a topic that comes up a lot with the younger generations, often because they don't feel equipped to handle it wisely or stay out of debt. Adulting is hard—and in a tough economy, it's even harder. 
As we talk about the top five things Gen Z wants from their employer this week, number three on the list is financial wellness training. All the practical stuff they missed in high school, they now realize they need to learn. 
Financial wellness training is a benefit that goes hand in hand with mental health support, since financial pressures can have a significant adverse effect on a person's mental health. 
That's one reason that financial wellness training is gaining steam as a benefit of choice this year. Not only does it benefit workers of all ages who need guidance in this area, but it also has advantages for the organization. 
Employees who are stressed with their financial situation are not only distracted from their work, but also more likely to jump ship if they can get a higher offer somewhere else. 
Showing employees you care about all aspects of their health—physical, mental, and even financial—can proactively address these issues, as well as contribute to a culture of overall employee satisfaction and wellbeing. 
Next up: Gen Z demands a human connection or they won't move forward.  Join me tomorrow on The Perna Syndicate for how this plays out in the workforce. See you then!
---
---
---