672-Mental Health Matters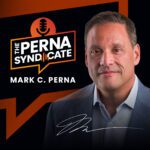 Episode: 672
Episode Title: Mental Health Matters
Mental health is a big challenge for many employees today, especially the younger ones. Here's how they want employers to respond, next on The Perna Syndicate.
Ep 672 show:
Welcome to The Perna Syndicate today! Even before the pandemic fully struck the U.S., younger workers were looking for better mental health support from their employers. Then Covid-19 entered the picture, forever changing how we work and live. 
The pandemic was hard on everyone's mental health, but Gen Z felt it in unique ways. Those who were students at the time found themselves missing once-in-a-lifetime events like graduation, extracurricular activities, and other milestone moments. 
For those Gen Z already working, 46% experienced a decline in their mental health due to the pandemic, according to a study by Alight. Today, many of these younger workers are still finding it harder to stay mentally healthy. 
Unsurprisingly, employers that offer mental health support benefits tend to inspire deeper loyalty on the part of employees. One study found that 30% of respondents whose employers provided ample mental health resources also said that their ability to manage stress improved during the pandemic. One-third noted that their loyalty to their employer increased. 
The takeaway? Mental health matters to this generation. And workers of all ages will appreciate an employer who offers meaningful support to tackle these issues productively.  
Next time: do young people want to become more financially literate? You bet they do. Join me tomorrow on The Perna Syndicate for that conversation. See you then!
---
---
---