665-What's In It For Me?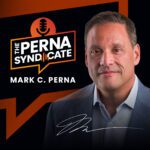 Episode: 665
Episode Title: What's In It For Me?
What's in it for me? To shrink the skills gap, we have to answer this question for students, educators, and employers alike. Here's why, next on The Perna Syndicate.
Ep 665 show:
Hello and welcome to The Perna Syndicate today! All week we've been talking about the skills gap and what it's going to take to shrink it. We have to let go of the idea that college is for everyone, while at the same time, better aligning college courses with the practical skills needed at work. 
We also need education and employment to start talking to each other. If we can break through the siloes that separate the workforce from the education system, communities everywhere can really start connecting these dots. 
But this will only happen when we answer the question, "what's in it for me"? We have to answer it for students—what's in it for them if they pursue the kinds of real-world skills that employers are looking for?
And educators—what's in it for them? Why should they make the effort to keep pace with the changing world of work? Employers, too—what's in it for them to invest in a genuine partnership with education, at a whole new level? 
The answers may differ depending on the unique context, but if we don't answer the "what's in it for me" question, it will be hard to gain traction. 
Real progress toward a smaller skills gap will only come when we can connect the dots, shift the education and employment paradigm, and align the interests of everyone—employers, educators, and young people alike.  
Thanks for listening to The Perna Syndicate this week! I'm your host, Mark Perna, and we'll see you back here next week for more on The Perna Syndicate. Take care!
---
---
---