664- Time to Team Up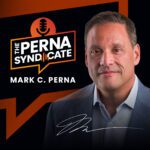 Episode: 664
Episode Title: Time to Team Up
Teamwork is the only way we're going to cross the skills gap and create a viable future for everyone. Here's what it will take, next on The Perna Syndicate.
Ep 664 show:
This is The Perna Syndicate—I'm glad you're here! Solving the skills gap is going to require a multi-pronged approach—and unprecedented cooperation between our education and employment sectors.
First, we can start removing barriers to higher education and encourage more enrollment through the expansion of dual credit programs. Such programs cut the time and cost needed for students to achieve a degree.
At the same time, universities and colleges can work to better align their courses with workforce skills—so that the degree remains an asset worth achieving.
We can also promote other pathways, such as apprenticeship, with the same enthusiasm and respect we give to the college choice. Real-world experience gives these learners an incredible competitive advantage in the workplace. In the end, it doesn't matter how you gain your skills as long as you get them.
Outside the educational sphere, companies can also offer skills training programs to draw in candidates and give them the tools to be successful in their respective industry.
All of this really means that schools and employers need to team up in new ways to train the younger generations in the skills of the future. More than ever, we need to connect the dots between school and work—because far too many people are getting lost in the middle.
Tomorrow on The Perna Syndicate, what's the biggest motivator for students, educators, and employers to close the skills gap? Stay tuned and be sure to subscribe so you don't miss a thing. See you next time on The Perna Syndicate!
---
---
---