666-Too Much Month at the End of the Money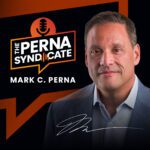 Episode: 666
Episode Title: Too Much Month at the End of the Money
7.7 million Americans are finding themselves with too much month at the end of the money. Here's what they're doing about it, next on The Perna Syndicate.
Ep 666 show:
It's a new week on The Perna Syndicate and I'm your host, Mark Perna. According to the Bureau of Labor Statistics, more than 400,000 Americans work two full-time jobs. When you include those who hold a full-time job plus one or more part-time jobs, that number leaps to over 7.7 million workers.
From rents and mortgages to interest rates and grocery bills, the cost of living is on the rise. And while we are all feeling the pinch, I would guess that many of the 7.7 million people working multiple jobs are on the younger side. 
I've lived the life where there's always too much month left at the end of the money. And it's rough. Unfortunately, as the economy continues to struggle, more people will find themselves in that situation. 
The good news is that the chronic staff shortages in retail and hospitality mean there are still a lot of part-time jobs available. Taking a second job can remove some of the stress around making ends meet. But of course, it comes with its own set of pressures. 
It can be tough to balance work, home, and everything else when you're working two jobs. So how can you keep your sanity if you've got to bring in extra income? 
That's our topic this week on The Perna Syndicate. Tomorrow we'll ask the question: should you tell your employer if you decide to take on a second job? Stay tuned and we'll see you back here next time on The Perna Syndicate. 
---
---
---