630 - What's Holding You Back?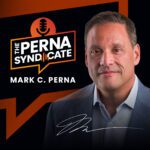 Episode: 630
Episode Title: What's Holding You Back?
Who's the biggest obstacle between you and your goals? It might be the last person you expect. Here's why, next on The Perna Syndicate.
Ep 630 show:
Welcome to a new day on The Perna Syndicate! Goals, resolutions, and good intentions—that's what it's all about as we start a new year. So today I just want to ask: what's holding you back?
Plans and dreams for the future are top of mind for a lot of people right now. Maybe you're dreaming big and have some huge goals you want to knock out this year. Or maybe, you're unsure where to go from here and a for-now direction is a better fit for you.
Whatever your situation, it can be helpful to think about the obstacles that are standing in your way. Some, you can't do much about, it's true. But others are well within your control.
Usually, what's holding me back from my full potential is the person I see when I look in the mirror. It's me versus me.
You see, I'm not a finished product. I'm still a work in progress. Every day is a chance to grow past yesterday's limits, to make the most of every moment, and have a positive impact on the world.
It's actually encouraging to consider that I'm my own biggest obstacle—because I can do something about that. What about you? Are you stuck in negative thinking or habits that just aren't moving you forward? How can you overcome those attitudes and patterns?
Don't get in your own way…this can be your best year yet!
Thanks for tuning into to The Perna Syndicate! Make sure you subscribe so you don't miss any of the great stuff lined up for 2023. It's going to be a great year—let's do it together!
---
---
---