63 - Who's the Most Stressed at Work Today?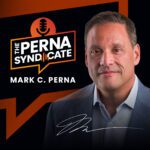 Episode: 63
Episode Title: Who's the Most Stressed at Work Today?
Which two generations are the most stressed and burned out at work? If you said Millennials and Gen Z, you're not wrong. Find out more, coming up next.
Ep 63 show:
Hi, and welcome to The Perna Syndicate! Amid our changing world, many employees are struggling to create a healthy work-life blend—especially Millennials and Gen Z. MetLife did a recent study on this, and they found that many younger employees are working significantly longer hours. And a majority are worried about their mental and financial health.
Of all generations, Millennial employees are the most stressed, most tired, and most burned out today. Gen Z are the most likely to feel mentally unwell right now, with Millennials a close second. 
Another survey by Smartsheet revealed similar trends, with the new work-from-home routine hitting the younger generations the hardest. Though younger workers tend to be digital natives, we're discovering that being successful in remote work is more than just being savvy with the technology. It's a whole new way of working, and it has to be learned.
And now, as some employers begin to bring employees back into the office, everyone's routine is about to change yet again. It's a tough time for everyone.
So that's the bad news—but there are some ways to make this new reality a little better. If you're among those struggling with a tricky new blend of work and life, while navigating increased financial and mental health pressures, you're not alone. 
On the next show, we'll talk through some practical ways you can blend work and life—without losing your mind. Stay tuned, and we'll see you tomorrow! 
---
---
---