626 - Don't Let Last Year Come Back To Haunt You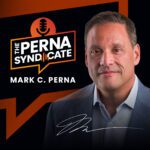 Episode: 626
Episode Title: Don't Let Last Year Come Back To Haunt You
What kind of 2023 you have may depend on what you do with the challenges left over from 2022. More on that, coming up next on The Perna Syndicate.
Ep 626 show:
Happy New Year on The Perna Syndicate! I'm your host, Mark Perna. If you're anything like me, you may be finding yourself starting the year with a to-do list that's a mile long. New demands are always popping up, especially now that the holidays over and a new year upon us. 
Sometimes it can feel like the only option is to put your head down and power through as best you can to get everything done. I totally get that feeling!
There's a time and place for that. But today, instead of forging ahead with a plan for the new year, it might be wiser to first pause and assess how last year went. Is there anything you could, or should, have done differently in 2022? 
If so, welcome to the club! But let's not stay here. 2022 is in the past, but it may still have a lot to teach us. Any plan we make for the new year must take into account the challenges we experienced last year. An accurate assessment of where we're at is essential to making a plan so that we can reach where we want to be. 
Of course, don't just focus on what went wrong last year. As you think back on this past year, don't forget all the things that went right—the victories you won, the projects and tasks you nailed, and the growth you experienced as a person and a professional. 
2022 is behind us, and 2023 promises to be quite a ride. So strap in, get set—and let's make it a great one.
Tomorrow: If you're setting goals, you might want to ask yourself some hard questions first. We'll look at what they are next time on The Perna Syndicate. See you then!
---
---
---