627 - Question Your Goals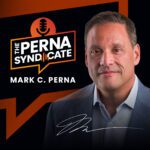 Episode: 627
Episode Title: Question Your Goals
Part of setting goals effectively is to ask yourself hard questions. Here's how I do it, coming up next on The Perna Syndicate.
Ep 627 show:
Hello and welcome to The Perna Syndicate! January is a time when many people are making resolutions and plans for the coming year. I enjoy this process of setting goals!
First, I think deeply about the challenges and victories of last year. I consider what I want to achieve in the next 12 months. Then, I ask myself some hard questions about those goals, like:
What is most valuable to me in my personal life? How can I support that?

What is most important to me in my professional life?

Am I on the right track to achieve it?

What are my long-term goals?

How can I break them into smaller steps that ladder up to the ultimate goal?

What resources do I need to make these goals a reality?

How will I stay motivated and keep doing the work when I hit a slump?

Who can I share my goals with, so I can stay accountable?

Who can I help to meet their own goals?

Are my goals realistic and do-able, or just wishes that won't come true?
I think of this process as "questioning my goals." I'm not pulling them down or discouraging myself, but rather, I am proactively addressing potential roadblocks before they happen.
What about you? What questions do you ask in the goal-setting process? Now's the time to ask these questions, so you can move forward in the new year with confidence.
Tomorrow: Burning your ships sounds pretty drastic—and it is. On The Perna Syndicate next time, we'll talk about why you might need to burn yours to reach your goals. Take care and we'll see you then!
---
---
---