624 - The Trust Gap: Impact Week 2022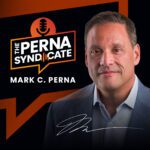 Episode: 624
Episode Title: The Trust Gap: Impact Week 2022
Does your organization have a trust gap? It's Impact Week on The Perna Syndicate, so let's take another look at this hugely popular topic from 2022!
Ep 624 show:
This is Impact Week on The Perna Syndicate—I'm glad you're tuning in! Today's top-ranking episode from 2022 is all about something sorely lacking in the workplace today: trust. 
Sadly, there's a huge trust gap right now between companies and the people they employ. In fact, some experts like Dr. Toby Travis believe that broken trust is at the root of the record talent shortage our country is dealing with. 
Many people are hesitant to reenter the workforce because they don't trust the company to look out for them. They're afraid that understaffing will create conditions where they're constantly overworked. They don't believe that the employer will value them over the customer, and they're tired of being thrown under that bus. 
Trust is foundational to any meaningful relationship, and this is also true in the workplace. When the pandemic first started, I wrote an opinion piece at Forbes about why trust is the secret ingredient that makes remote work, work. Teams that aren't together physically can't collaborate well without a basic level of trust. 
A new year is almost here and in many ways, it can be a fresh start. If trust within your organization has suffered, let's get real about it. Bridging the trust gap will take time, but it's essential in order to attract, engage, and retain talented employees and move forward productively.
Tomorrow, let's get practical about how to build trust. On the next episode of The Perna Syndicate, we'll cover 4 high-impact strategies to strengthen trust in your interactions. Take care and we'll see you then!
---
---
---