487 - Work Culture According to Gen Z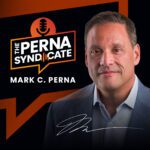 Episode: 487
Episode Title: Work Culture According to Gen Z
Gen Z knows what they want at work—and this includes good relationships with their team and boss. Let's talk about it, next on The Perna Syndicate.
Ep 487 show:
You're now in The Perna Syndicate! As the Great Resignation rolls on, a great work culture has become a major driver of employee recruitment and retention. This is especially true for younger workers, who know they don't have to settle for less at work.
The TalentLMS study also found among Gen Z workers, 77% want to work for a company that prioritizes diversity, equity and inclusion. 73% believe that people should be allowed to express themselves freely, authentically and spontaneously at work. 
58% wish their company would be more environmentally responsible, and another 68% prioritize employment at a company with a commitment to social causes.
None of this is really breaking news, but what I did find fascinating is the relational side of work culture. 76% of Gen Z want to work at a company alongside caring, friendly and socially conscious people. (Honestly though, who wouldn't?)
On the flip side, 19% of Gen Z workers view not having meaningful relationships with colleagues as a reason to quit. This goes for their boss as well. The top traits that Gen Z workers value in their leaders are empathy and honesty.
Clearly, there are a lot of pieces that go into a great work culture. But once you put them together, you'll not only satisfy Gen Z, but everyone else as well. 
On the next episode of The Perna Syndicate, we'll talk about how the younger generations define flexibility at work. Hint: it's not just working from home. Take care and we'll see you then!
---
---
---