462 - They Don't Know What They Don't Know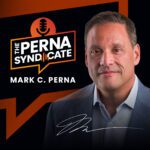 Episode: 462
Episode Title: They Don't Know What They Don't Know
When young people are choosing a career, do they really know about all their options? Not according to a new study. Let's talk about it, next on The Perna Syndicate.
Ep 462 show:
Welcome to The Perna Syndicate! This week, we're talking about new research from Stanley Black & Decker about why Generation Z isn't pursuing careers in the skilled trades.
One of the main reasons seems to be a simple lack of exposure. Young people don't know what they don't know. You might think that all students receive thorough career counseling from their school or parents so they can make the best postsecondary choices. But that's not always the case.
According to the study, only four in ten young people have ever connected directly with someone in a skilled trade about their field. Fully 37% have never talked to anyone, at all, about the possibility of entering a skilled trade career. Only three in ten fully understand the steps to get started in one of these fields.
So what can we do about this? For career advice, the study found that young people turn to parents, friends, classmates, and teachers. To reach Gen Z, employers also need to reach all these groups.
Media is one way to make that connection. More than 60% of skilled workers who have less than 10 years of experience say that media influenced their career plans. Print, online, social, and other media avenues can showcase the huge career potential of the skilled trades.
People just don't know what they don't know—until we find a way to tell them.
Tomorrow: what kind of salary do skilled tradespeople make? Once again, the perception doesn't match the reality. We'll talk about that and more on the next episode of The Perna Syndicate. See you then!
---
---
---