461 - Discovering the Skilled Trades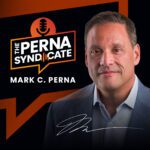 Episode: 461
Episode Title: Discovering the Skilled Trades
There are tons of high-tech, high-demand careers in the skilled trades. So why aren't more young people pursuing them? A new study can shed some light, next on The Perna Syndicate.
Ep 461 show:
Hello and welcome to a new week on The Perna Syndicate! I'm your host, Mark Perna, and this week, I want to cover some new research about the skilled trades and Generation Z.
Lately, the talent shortage has gotten a lot of attention. But for the skilled trades—fields like construction, advanced manufacturing, electricity, healthcare, aerospace, ironworking, and many others—the lack of qualified workers is not new.
Now, as a 'silver tsunami' of Baby Boomer talent retires, employers in these skilled trades are desperate to shrink the skills gap. The skilled trades offer many in-demand careers—so why aren't more members of Gen Z choosing this pathway?
To find out, Stanley Black & Decker recently surveyed high schoolers, their parents, and skilled trade workers themselves. Not surprisingly, they found that many young people hold obsolete ideas about the trades. Roughly one in four disagree that these trades use cutting-edge technology, and one in five disagree that the work is in high demand.
At the same time, 89% of skilled tradespeople said they do work with cutting-edge technology, and 94% say that their jobs are in high demand. So why is there such an awareness gap between public perception and the actual lived experience of skilled tradespeople? And, how can we bridge that gap and help young people discover the skilled trades?
This week on The Perna Syndicate, we'll talk about the four major stereotypes for the skilled trades. We'll also cover the strategies to help young people bridge their own awareness gap around these viable careers. See you back here tomorrow on The Perna Syndicate!
---
---
---