460 - Wade and the Ripple Effect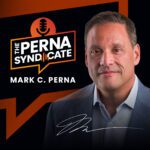 Episode: 460
Episode Title: Wade and the Ripple Effect
What's the ripple effect? I see it as the way our interactions with people, good or bad, can last long beyond just that moment. Let's talk about it, next on The Perna Syndicate.
Ep 460 show:
Welcome to The Perna Syndicate! As we wrap up this week's story of Wade the warm and personable bus driver and his complete opposite, the rude and standoffish April, I wanted to offer a final thought about that experience. 
Several years ago I was sharing this story at Chicago Public Schools. At the end of the presentation, I was doing a Q&A when the last question blew me away, as I had never considered its implications until that moment. 
Someone asked: "Does Wade know that you talk about him in your speeches?" 
The answer is no, Wade has no clue that on a routine day and trip to the rental car center that he has made hundreds if not thousands of times, he so deeply influenced one traveler that I published an article about him in a national magazine, shared his story at hundreds of keynotes, and am now telling it here on this show with listeners all across the globe. 
Imagine that one ten-minute trip positively affecting an awe-inspiring number of people worldwide—simply through one man's optimistic outlook and genuine nature. And he's still making a difference—all unknown to him, as I've never been able to find Wade to tell him. 
Now, imagine how your life can impact those around you. You can have a vast ripple effect that can flow far beyond your direct interactions with your children, students, employees, and community—and beyond. The ripple effect can turn us all from a single drip to a powerful wave. So what kind of ripple are you making? 
So that's the story of Wade and April. Thanks for tuning in and making this a part of your week! I'm your host, Mark Perna, and we'll see you back here next week for more on The Perna Syndicate. Until then, take care! 
---
---
---