459 - Wade or April: You Decide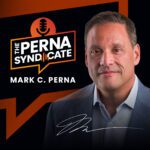 Episode: 459
Episode Title: Wade or April: You Decide
Wade the bus driver and April the rental car employee both have a lesson for us. We decide which one we'll listen to. Find out more, next on The Perna Syndicate.
Ep 459 show:
Hello and welcome to The Perna Syndicate! All week, I've been sharing the story of Wade, who was a bus driver in Baltimore—who did more than just drive the bus. With a warm, personable attitude (and some hilarious jokes), Wade changed my whole mood. He radiated pride for his city, and it rubbed off. I got on his bus feeling stressed—I stepped off feeling great. 
What was Wade's job? It wasn't just driving the bus. It was marketing.
Then 60 seconds later I met the anti-Wade. April worked at the car rental counter. She never looked up, she never smiled. In fact, she was downright rude. Oh, she was proficient at her job. But she took all the spring out of my step. So what was April's job? That's right: marketing.
Marketing is really just a message. Wade and April both conveyed simple, powerful messages that couldn't be more different. Wade valued people; April didn't. Wade believed his role was critical; April believed she was just a cog in a machine. Wade made my day; April just completed my rental contract.
From these two people I learned to ask myself: am I a Wade—or am I an April? Am I making a positive difference for people, even during short, one-time interactions? Or am I just concerned about getting the transaction over with as quickly as possible? 
We can all learn from Wade and April. The question is, which lesson are we taking to heart?
I've shared this story with thousands of audience members. One day after my presentation, someone asked me a question about Wade that I had never considered. Listen in tomorrow on The Perna Syndicate for what it was. See you then! 
---
---
---