458 - The Anti-Wade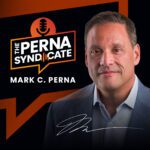 Episode: 458
Episode Title: The Anti-Wade
Within sixty seconds, I met two people who couldn't be more different. You've met Wade—now meet the anti-Wade, next on The Perna Syndicate.
Ep 458 show:
You're now in The Perna Syndicate—and I'm glad you're here! This week I've been telling the story of Wade, a bus driver who once drove me from the Baltimore airport to the rental car facility. It was a really tough day, full of delays and frustration, but in those ten short minutes, Wade's genuine interest and warm personality made me feel better about it all.  
As I departed Wade's bus, I had a big smile on my face—which lasted a full sixty seconds until I walked up to the counter where I met the person I affectionately refer to as the anti-Wade. Boom, back to reality. 
Her name was April and maybe because it was January it was just not April's month. To her credit, she got me in and out of the rental transaction in three short minutes. Have you ever seen someone whirl so fast on a computer that you wonder whether they are, in fact, actually typing? 
During that brief interaction she was cold, standoffish, and even flat-out rude. April never looked up at me from her keyboard or acknowledged me in any way except to rap out, "Name?!" She was technically proficient but when it came to making a connection with people—not so much. 
I walked away in awe that within sixty seconds I could meet two people so diametrically opposed. April clearly missed the fact that the rental car company spends tens of millions of dollars to bring me to the point of renting a car and where the rubber meets the road (literally)—she gets handed the ball and she doesn't just drop it. She destroys it.
Tomorrow: what can we learn from two such different people as Wade and April? On the next episode of The Perna Syndicate, I'll share what I personally learned from this whole experience. Tune in, and we'll see you then!
---
---
---