457 - 10 Minutes to a Positive Difference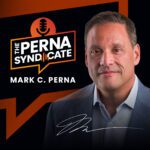 Episode: 457
Episode Title: 10 Minutes to a Positive Difference
Did you know you can make a positive difference in someone's life even if you only interact with them one time? Here's how a man named Wade did that for me, next on The Perna Syndicate.
Ep 457 show:
This is The Perna Syndicate—welcome! Yesterday I started the story of Wade, the bus driver in Baltimore who I met during a very challenging day. Wade drove myself and the other passengers from the airport to the rental car facility. During that 10-minute drive, he made a lifelong impact on me.
He'd met me at the curb, looked me in the eye, and made it his business to be sure I felt comfortable and taken care of. He did this for every person on the bus that day. Once we were all aboard, he got on the microphone to tell two of the funniest jokes I'd ever heard. Everyone burst out laughing!
Conversations started between people who, just a few minutes ago, had had nothing to say to one another. It was fun, enjoyable, and stress relieving…even a bit magical.
Just before we arrived, Wade got back on the microphone to thank us for coming to Baltimore and to offer assistance to anyone who needed help unloading their bags or figuring out where to go. We rolled to a stop, Wade told one more funny joke, and we all got off the bus.
Have you ever met someone who just put a bounce in your step or took the chip from your shoulder? Wade made us feel better about ourselves and our circumstances. In the process, he was a remarkable ambassador for the city of Baltimore. He radiated pride for his city, his job, and himself. In just ten minutes, he made a positive difference for everyone he encountered.
So that was Wade. But as soon as I entered the rental car facility, I met someone very different—someone who I now call the anti-Wade. Tune in tomorrow on The Perna Syndicate to hear about it. We'll see you then!
---
---
---