456 - The Story of Wade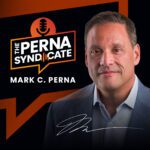 Episode: 456
Episode Title: The Story of Wade
Almost 20 years ago, I met a man named Wade. We only met once, but he's still influencing my life today. Let me tell you his story, next on The Perna Syndicate.
Ep 456 show:
Hello and welcome to The Perna Syndicate! I'm your host, Mark Perna, and today I want to share the story of a bus driver in Baltimore whose name was Wade. Though we only interacted for a few minutes, he's still having a positive impact on me.
It was snowing heavily that Friday morning in January, hampering operations at the airport where I was waiting to catch a flight. As a result, I arrived at the Baltimore Airport over four hours late, anxious to start the drive to DC to make my appointment. Needless to say, I was stressed and challenged and was not in the best of moods. Enter Wade.
As I was standing on the curb, the rental car bus rolled to a stop and Wade jumped off. Now when I say he jumped off, I mean he had a real spring in his step. He looked me square in the eye and said, "Glad you made it here safely! Let me grab your bags while you get comfortable inside the bus." This type of warmth and enthusiasm is rare on the road. I took a second look at Wade.
He was roughly 28–30 years old and had a clear, deep voice that commanded attention. As we pulled away, he got on the microphone. "Good afternoon, my name is Wade and I will be driving you to the rental car facility today. Thank you for making Baltimore your final stop and I want you to know that whatever stresses and challenges have brought you to this moment, take a deep breath and relax—because I've got you and I want to give you enough information to help expedite your trip through the rental car facility."
What a breath of fresh air after my challenging day! There's more to the story that I don't have time to share today. Tune into The Perna Syndicate tomorrow for what Wade did next—and how it impacted every person on the bus that day. We'll see you then!
---
---
---