430 - The Top 5 States for Resume Errors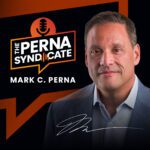 Episode: 430
Episode Title: The Top 5 States for Resume Errors
If you live in one of these five U.S. states, your chances of having a mistake on your resume are higher. Find out which ones they are, next on The Perna Syndicate.
Ep 430 show:
Hello and happy Friday on The Perna Syndicate! This week, we've done a deep dive on the mistakes that are marring more than half of all resumes in the U.S. Things like misspelled words, failing to e xplain employment gaps, listing invalid contact information, and other errors are found on 64% of all U.S. resumes, according to a new analysis by Adzuna. 
They also analyzed the states where most of the mistakes were coming from. Texas had the highest concentration of resume typos. In second place for mistakes was California, followed by New York, Florida, and Pennsylvania. If you live in one of those states, maybe give your resume an extra check!
Young people are often intimidated by the idea of putting together a top-notch resume. But it's still a crucial part of the job-seeking process, and one that parents and educators can help with. 
There are tons of resources out there to help you build an effective resume. But in a nutshell, your resume should include enough information to give a complete picture of your work history and abilities. It should also be clear and concise—and of course, it needs to be error-free to get past the screening software.
It's worth taking the time to get it right. After all, isn't the opportunity to land your dream job worth making sure your resume is perfect? While so much has changed about how and where we work, the need for an effective resume remains the same.
That's all for this week on The Perna Syndicate. Thanks for tuning in and making this a part of your day! I'm your host, Mark Perna, and we'll see you back here next week for more on The Perna Syndicate. Until then, take care!
---
---
---