339 - What to Give Thanks For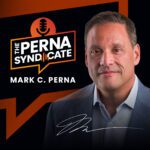 Episode: 339
Episode Title: What to Give Thanks For
What do you thank people for at work? It should be more than just their performance. Let's talk about it, coming up next on The Perna Syndicate.
Ep 339 show:
Welcome to The Perna Syndicate! In the U.S., we're celebrating Thanksgiving today. In between all the family get-togethers and great food, I hope we all find a moment to feel gratitude for everything we enjoy in our personal and professional lives. 
It's also a great time to consider the impact that gratitude can have in our places of employment. Based on new research from Workhuman, we've established that saying thank-you can have a major impact on employee engagement and retention. Feeling appreciated is a huge morale-booster!
So what exactly should we thank our coworkers for? It's easy to thank people for their performance-based accomplishments, such as hitting a sales target. But while their performance is certainly a great place to start, it shouldn't stop there.
We can thank others for lending a hand on a project, providing a different perspective in a brainstorm or meeting, being a positive influence in the workplace, taking the time to listen, and for their dedication to the organization through the difficult events we've all faced over the past year. 
It's easy to find things to give thanks for when you look for them. The people around us are making a positive difference every day in small and not-so-small ways. We just have to tune in and notice those things—and let them know we appreciate everything they do. 
On that note, happy Thanksgiving to you and thank you for being part of The Perna Syndicate! We'll be back tomorrow to wrap up the week with a few final thoughts on the power of gratitude. See you back here next time on The Perna Syndicate!
---
---
---