338 - How Not to Say Thank You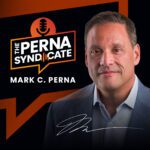 Episode: 338
Episode Title: How Not to Say Thank You
What's the worst way to say thank-you? When there's a hidden motive behind the gratitude. Stay tuned for more, coming up next on The Perna Syndicate.
Ep 338 show:
You're now in The Perna Syndicate—welcome! As we talk about the power of gratitude in the workplace this week, it may be helpful to consider how not to say thank you. 
Research shows what a positive effect that gratitude and recognition can have on employee engagement and retention. But if we see expressing gratitude as simply another tactic to keep people happy and committed to the organization, it can actually backfire.  
The worst thank-you is the one that has an ulterior motive. Rosette Cataldo of the firm Workhuman says that when you express gratitude or offer recognition, you should never expect something in return. 
If we do that, we undercut the impact of the gratitude—perhaps even erase it. The other person switches from "oh wow, they appreciate me" to "oh wow, they want something from me." Talk about a buzzkill. No one likes to be manipulated.
Although it's good to be more intentional about expressing gratitude, sometimes a spontaneous thank-you can be the best. Not planned, not rehearsed, and not calculated; it simply flows from your heart and how much you value the other person. You have no hidden reason or outcome that you're trying to achieve. You're just letting the other person know what a valuable contribution they made. 
That's how to say thank you. 
Tomorrow, what should we be thanking our team for? Gratitude should be expressed for more than just performance-based accomplishments. Let's talk about it on the next episode of The Perna Syndicate. See you then! 
---
---
---