32 - What Gen Z Really Wants At Work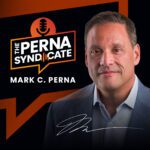 Episode: 32-what-gen-z-really-wants-at-work
Tease: What matters most to the youngest generation in the workforce today? A new study tells all—coming up next on The Perna Syndicate.
Ep 32 show:
Hello, and welcome to The Perna Syndicate! I'm your host, Mark C. Perna, and on today's episode, I want to look at the priorities of today's youngest working generation today. What do they want out of their work, and how can employers deliver it?
A new study by ManPowerGroup aims to answer this question for all four generations active in the modern workforce: Generation Z, the millennials, Generation X, and of course, my generation, the Baby Boomers.
There are some bottom line requirements that are universal to every generation, like good pay, career advancement, and challenging work. But there are also some significant nuances that employers can't and shouldn't ignore.
Generation Z—defined as ages 18 through 24—is most focused on money. The tough economic lessons that their parents learned during the Great Recession also hit home with them, especially with women.
Gen-Z men also value good pay, but almost equally, they value skills development and career advancement, too.
Additionally, the study notes that college-educated women now outnumber college-educated men in the workforce—and Gen-Z won't be content with unequal pay. Flexibility, challenging work, and a strong brand are also important to today's youngest working generation.
Tomorrow, we'll look at what Millennials really want at work. It might just surprise you.
Dive deeper into the mind of the younger generations in my award-winning bestseller, Answering Why — available in hardcover, ebook, and audiobook on Amazon.com.
---
---
---