31 - The Secret Ingredient For Effective Remote Teams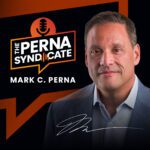 Episode: 31-the-secret-ingredient-for-effective-remote-teams
Tease: What's the one secret ingredient that makes remote teams, work? Find out today on The Perna Syndicate.
Ep 31 show:
Hello, and welcome to today's episode! Several months into America's massive remote-work experiment, managers and employees are still finding their feet. If you're part of a newly remote team—and especially if you manage one—you know that working from home presents its own set of challenges.
Once you get all the connectivity and security issues figured out, there's still something else you need. It's the secret ingredient of productive, connected, and positive teams. And it's simply this: trust.
Trust sets high expectations and motivates people to reach them. It removes distractions, allowing people to focus on the work. If you can't trust your employees, why are they there?
Micromanagement is annoying in the office, but working remotely, it's downright destructive. Instead of constantly monitoring employees, managers should give their teams objective goals and the resources to reach them—and then trust them to perform.
What's the price of too much employee monitoring? Of course, there's your time and energy as a manager, tediously tracing each employee's workflow and output. But there's also the cost to the employee, lowering their morale and decreasing productivity.
Leaders who trust their teams will be amazed at how they grow and rise to the occasion. Trust is the secret ingredient for an effective remote team.
If this is a message your organization needs to hear, let's connect. Contact me any time at MarkCPerna.com.
---
---
---